Club Elite's unique service celebrates the evolving gay lifestyle with evolved gay matchmaking. We are your matchmaker, personal consultant, and confidant. We know that today's gay man is no longer satisfied with searching for Mr. Right in bars, clubs, on the Internet, or with friends setting him up with their "other gay friend".
By providing thoughtful and personalized introductions, Club Elite increases your exposure and connects you with prescreened, quality gay men with similar lifestyles and relationship goals.
We currently have two full-time matchmakers in the New York Metro area.
Please click here for more information!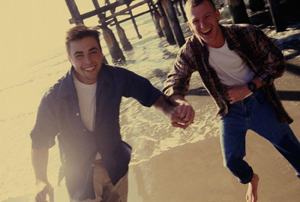 Here are just a few testimonials from our happy, satisfied clients.
"What impressed me most about Rob is the thought he puts into the matchmaking process. He gets to know the client well, through an initial detailed interview and follow-up conversations after dates. With his growing understanding of what type of match is right for a client, he works hard to find lots of potentially good matches. It ends up being a fun process." - David

"Rob really knows what he's doing. My first introduction and I had a great time on our date even though there was no romantic chemistry. My second introduction was to a guy that I was very seriously involved with for over four months. Rob really hit the nail on the head! It was unbelievable. He spends so much time with his clients, getting to know them in the beginning, that you can trust he knows who will work well with you. All in all, I'm very glad to meet people through Club Elite and not in bars or on the Internet. My experience with those two venues was very time-consuming and I never found guys who were looking for a relationship. Thanks Rob!" - Joe

"I want to thank Club Elite for allowing me to meet Robert. We hit it off from the first time we met. It is funny now that we look back on that initial date from the perspective of two months together, and think that we would have never met had it not been for Club Elite. We do not fit the normal category of individuals either one of us picks up at the bars. The fact that Rob is able to suggest individuals that just might work, is what I appreciate about his professional service. I highly recommend this service for those professionals that have limited time to spend and want the most effective use of their time in the pursuit of a healthy relationship. Best wishes to Club Elite and those lucky couples who are able to make it work." - Jeff
" The essence of a good relationship is the natural sympathy between two people. Rob established that right away in our interview and made an equally natural application of that sympathy to some really wonderful gentlemen. I enjoyed meeting each one and, although lightning did not strike this time, I know that Rob will be the one to make that possible. The range and character of the single men he represents is certainly second to none!
I enthusiastically offer my thanks and my recommendation! " -
Dwight
meet mr. right

212.242.4755
89 Fifth Avenue, Suite 602
New York, NY 10003

info@nyclubelite.com